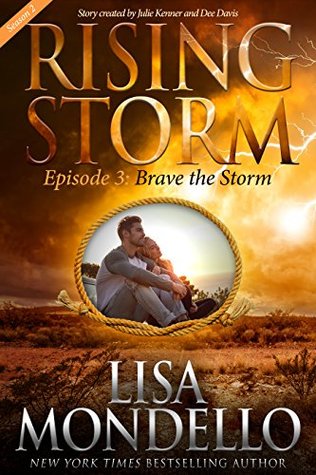 Format: e-ARC, 92 pages
Publisher: Evil Eye Concepts, Inc
Published: September 27, 2016
ASIN: B01KGGHWSU
Genre: Romance
Back cover blurb: Secrets, Sex and Scandals …
Welcome to Storm, Texas, where passion runs hot, desire runs deep, and secrets have the power to destroy… Get ready. The storm is coming.
As Senator Rush's poll numbers free fall, Marylee tries to drive a wedge between Brittany and Marcus. Across town, Anna Mae and Chase dance toward reconciliation. Ginny longs for Logan, while he fights against Sebastian's maneuvering. And Hector, newly freed from prison, heads back to Storm…   
My review: A bit of a filler episode, mostly focusing on Chase and Anna Mae. Although the pacing of this one was slower, I quite enjoyed their storyline even though it was easily predicted. The addition of Patsy was very cute! Elsewhere in Storm, things are plodding along. I think I can see where Max, Jacob's old roommate, and his friend Scott are going to fit in. I did miss Ian in this episode, but the ending was a doozy.  
***Disclaimer: This e-ARC was provided to me by the publisher via InkSlinger PR in exchange for an honest review. Huge thanks to them. ***
My rating: 3/5
Amazon US ** Amazon UK ** Amazon CAN ** Amazon AU