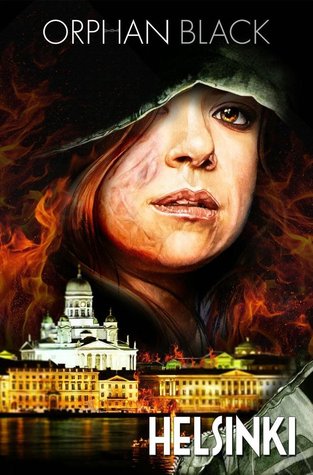 Format: e-ARC, 120 pages
Publisher: IDW Publishing
To Be Published: July 12, 2016
ISBN: 9781631405839
Genre: Comics & Graphic
Back cover blurb: Helsinki. Spoken in hushed tones, the word means almost certain death for the clones of Project Leda. Learn the dark secrets of this codename in this special event miniseries by co-creators John Fawcett and Graeme Manson.
My review: This left me very confused. I'm a big fan of Orphan Black but not usually a graphic novel reader, so maybe it's just me. My ARC copy began abruptly with no cover or forward material, so I felt lost from the beginning, unsure if what I was reading was really the start of the story. It is set in 2001 when the clones are 17, so they don't look all that much like Tatiana Maslany, or even like each other, in a lot of the frames. This added to my confusion, along with the fact these are all new clones not seen on the TV series to date.
I only felt comfortable about halfway through when some familiar names appeared – Rachel, Ferdinand, Dr Leekie and Katja – but there didn't seem to be much of a plot and I certainly don't feel like Helsinki was sufficiently explained. Contributing to that was the fact my ARC ended at 82 pages rather than 120 as GoodReads lists the book to be – the "Fiery Finale" section was missing so I cannot comment about whether anything was resolved. A graphic novel is a great idea for this series, but I'm sad to say I'm left a little cold by its execution.
***Disclaimer: This e-ARC was provided to me by the publisher via Netgalley in exchange for an honest review. Huge thanks to them. ***
My rating: 2/5