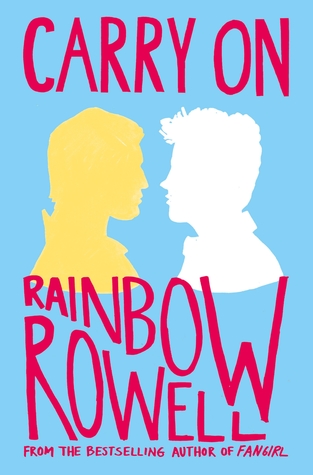 Format: e-ARC, 528 pages
Publisher: Pan Macmillan
Published: February 25, 2016
ISBN: 9781447266945
Genre: Teens & YA
Back cover blurb: Simon Snow just wants to relax and savor his last year at the Watford School of Magicks, but no one will let him. His girlfriend broke up with him, his best friend is a pest, and his mentor keeps trying to hide him away in the mountains where maybe he'll be safe. Simon can't even enjoy the fact that his roommate and longtime nemesis is missing, because he can't stop worrying about the evil git. Plus there are ghosts. And vampires. And actual evil things trying to shut Simon down. When you're the most powerful magician the world has ever known, you never get to relax and savor anything.
Carry On is a ghost story, a love story, a mystery and a melodrama. It has just as much kissing and talking as you'd expect from a Rainbow Rowell story — but far, far more monsters.
My review: At first glance, this is Harry Potter with swearing. No, more like Harry Potter/Twilight slash fan fiction with swearing. But it's a bit of a hoot, and after a slow start – let's face it, like Twilight it didn't get going until the hot vampire boy turned up – I really enjoyed it. Rowell's trademark humour is all through this and there are pop culture references to burn, even an Ant and Dec mention. I'm now racing off to read Fangirl.
***Disclaimer: This e-ARC was provided to me by the publisher via Netgalley in exchange for an honest review. Huge thanks to them. ***
My rating: 4/5